The State of Latino Buying Power in 2022 [Downloadable Recipes]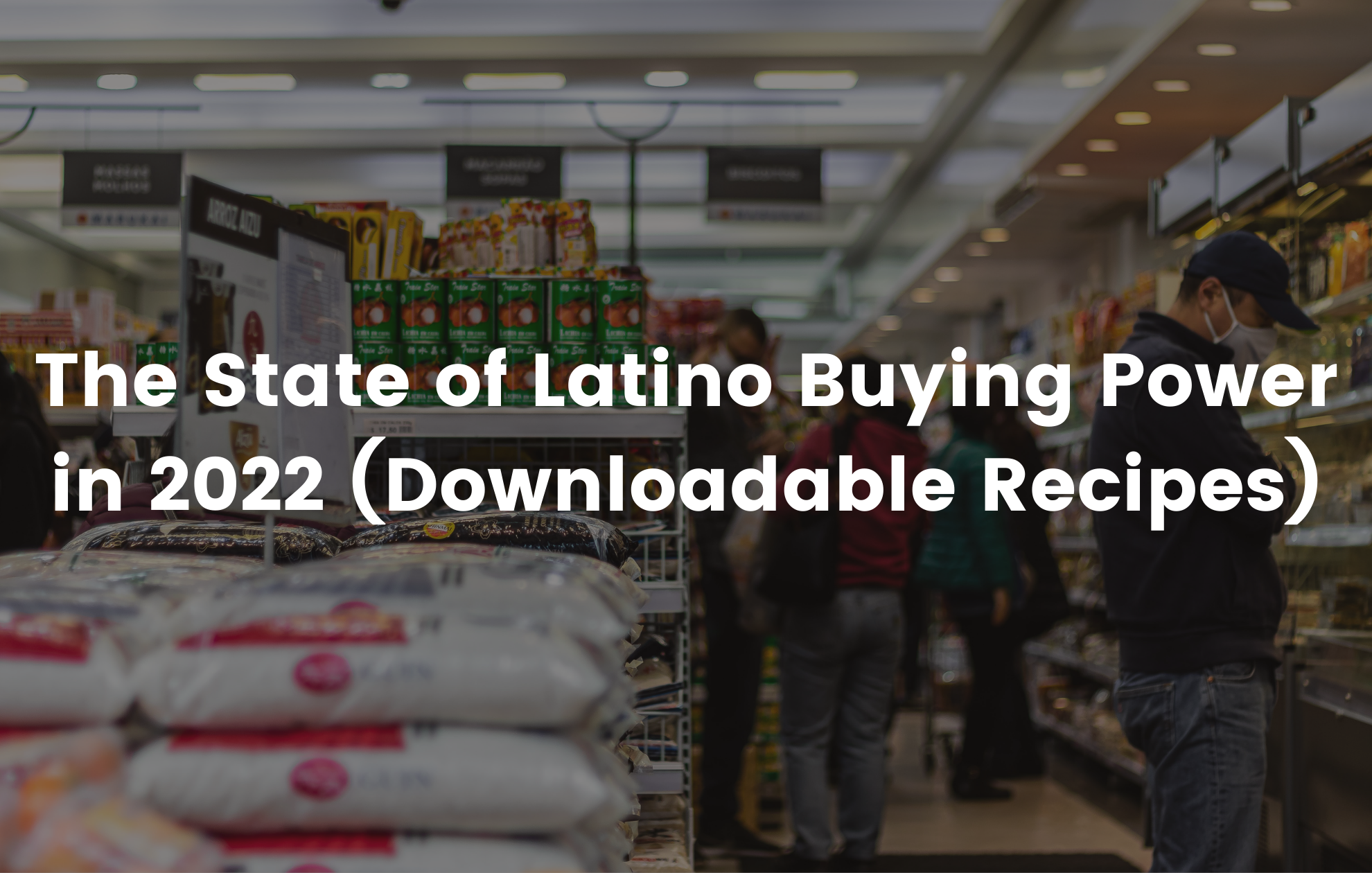 A Month to Celebrate Our Culture
September 15 marked the beginning of Hispanic Heritage Month. Nowadays, there has been a discussion over the month's renaming to a perhaps more inclusive name like Latinx Heritage Month, or Latine Heritage Month. But regardless of what you call it, its purpose remains clear: A month to celebrate the beautiful Latin culture throughout the Americas. And as a company who was founded in Latin America and is made up of over 90% people with Latin roots, we naturally must celebrate!
Due to the growing population and expanding economic power, Hispanics are one of the key groups being targeted by economists, marketers, and advertisers.
Let's take a deep dive into the influence in buying power that our ethnic group has in the United States, and what this means for grocery stores around the country.
Latino Buying Power in the United States
According to a study done by the University of Georgia, the 2020 Census shows that nearly a fifth of the total population of the United States identifies as Hispanic, and that number is expected to nearly double from now until 2060. Today, the Hispanic dollar, or buying power, is valued at $1.9 trillion, which is 10.8% of all US buying power.
That's a tenth of shoppers wandering down grocery aisles with a Latin background! A tenth of shoppers whose culture is slowly but surely gaining representation in grocery stores across the country. And a tenth of shoppers who may as well shift customer loyalty based on how well represented their culture is in their grocery store.
You might like: A Glossary of Terms for Your Favorite Latin Dishes
Nostalgia in the Kitchen
As part of Hispanic Heritage Month, Chefs Roll helped us visually represent the love for Hispanic culture and tradition in the kitchen. This two-part series spotlights chefs from different parts of Latin America – from the Caribbean all the way down to South America – and features dishes that were inspired from each chefs' culture and traditions growing up.
Chef Rene Alesandro Coreas (@walkingspanish.la)
Coming from a Salvadoran background, Chef Rene uses this his Central American culture as inspiration for his Plantain "Tartine". Although the original definition of une tartine in French means open-faced sandwich – usually consisting of a slice of bread (toasted or not) with some kind of topping like butter or cheese – Chef Rene combines this loose definition with a staple Salvadoran food – the plantain.
Creating a plantain fritter and topping it with black bean puree, a mixture of cojita and queso fresco, along with some crème fraîche, Chef Rene brings up nostalgic memories from his childhood kitchen in El Salvador. In his own words, "I feel it is my main goal to bring [Salvadoran cuisine] forward and highlight it for more people to try it."
Download Chef Rene's Salvadoran-inspired Plantain Tartine here.
You might like: Plantain 101: What is a Plantain?
Chef Ana Paola de Anda (@apdeanda)
Chef Ana is a culinary trained pastry chef in San Diego with a Mexican background. She has worked in several restaurants across San Diego, does private catering and continues to sharpen her skills by taking master classes around the world with top chefs in the industry. ⁠
Here, Chef Ana uses inspiration from her upbringing in Mexico to create this beautifully crafted take on her grandma's recipe. Cajeta (caramelized goat milk) is a sort of Hispanic cream pie and classic Mexican dessert. Combined with pecans, a cookie crust, whipped cream and whipped plantain cremeux, this is a true delicacy and homage to a childhood in Mexico.⁠
Download Chef Ana's Mexican-inspired Plantain Tart with Cajeta here.
You might like: 5 Ways to Eat Plantains
Culture Connectors
As mentioned before, MIC Food is made up of people from all over Latin America. We can personally attest to the feeling of walking through a grocery store and getting excited over seeing yuca in the freezer aisle, or having memories of our home country when picking something made by a Latin brand.
Just like these chefs, the kitchen is a place of nostalgia for us, and as more Latin foods are beginning to be represented in the grocery aisle, the more beautifully crafted and culturally-inspired dishes will come out of the people who represent these beautiful countries.
Stay tuned during Hispanic Heritage Month as we continue Bringing Cultures Together by introducing more chefs of Latin decent and their dishes rooted in their tradition.
Convenience
Traditionally, plantains must be peeled, sliced, and cooked prior to consuming. But Big Banana® Ripe Plantain products are available pre-cut and pre-cooked!
Here at MIC Food® we are helping chefs, restaurants, industrial kitchens, retail brands, delis, and others in the food industry rethink their menus and increase appeal among ethnic and mainstream consumers alike. We provide variety of tropical fruits and vegetables that come peeled and cut, ready-to-heat and serve, saving you hours of prep time so you can focus on what matters the most: making every meal memorable.
Ready to try Big Banana® Ripe Plantains? Contact our sales team and request samples today! Or Ask Our Chef about how you can incorporate plantains into your menu!
Sources: