Plantains: A Trip Around Latin America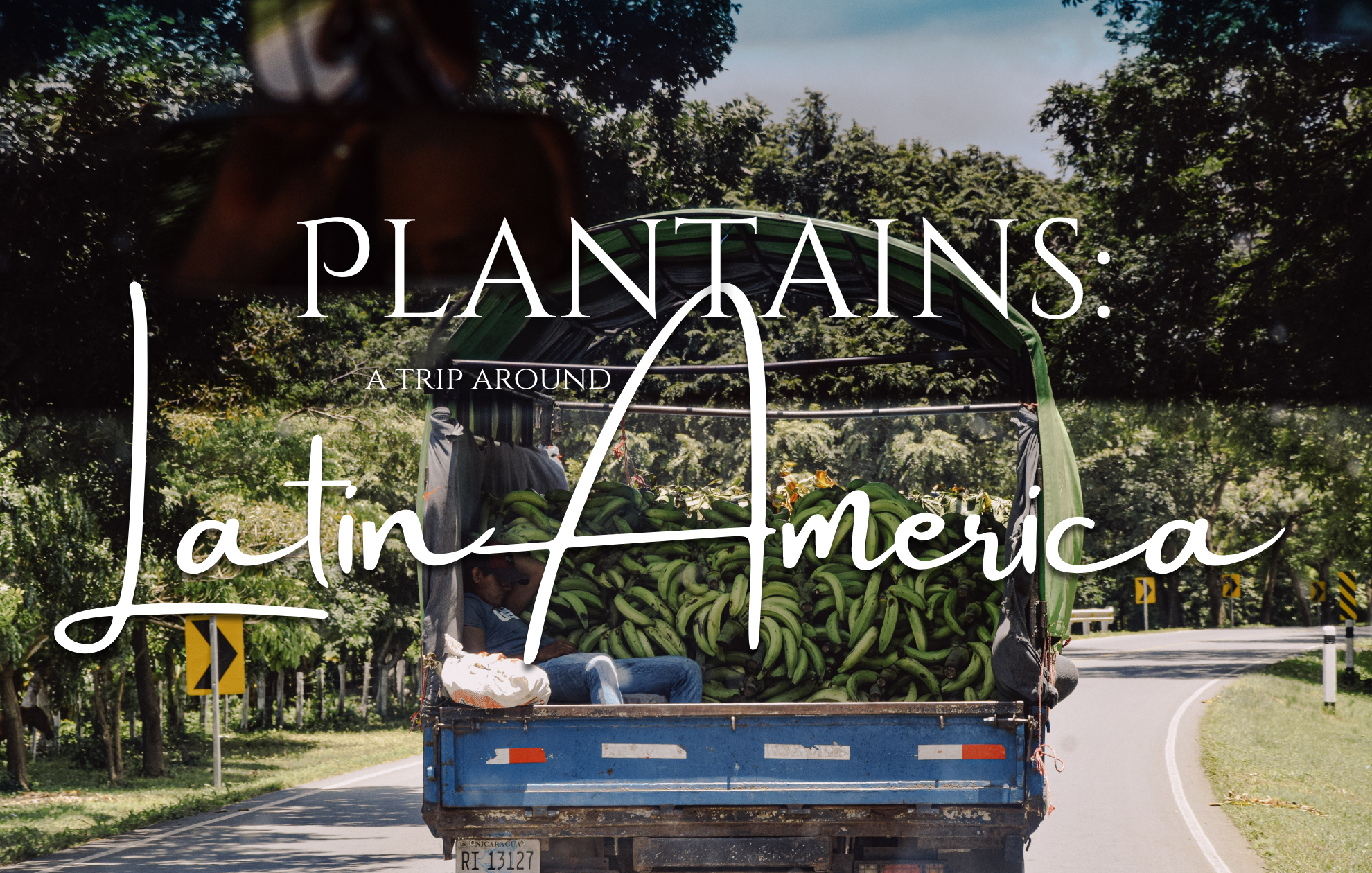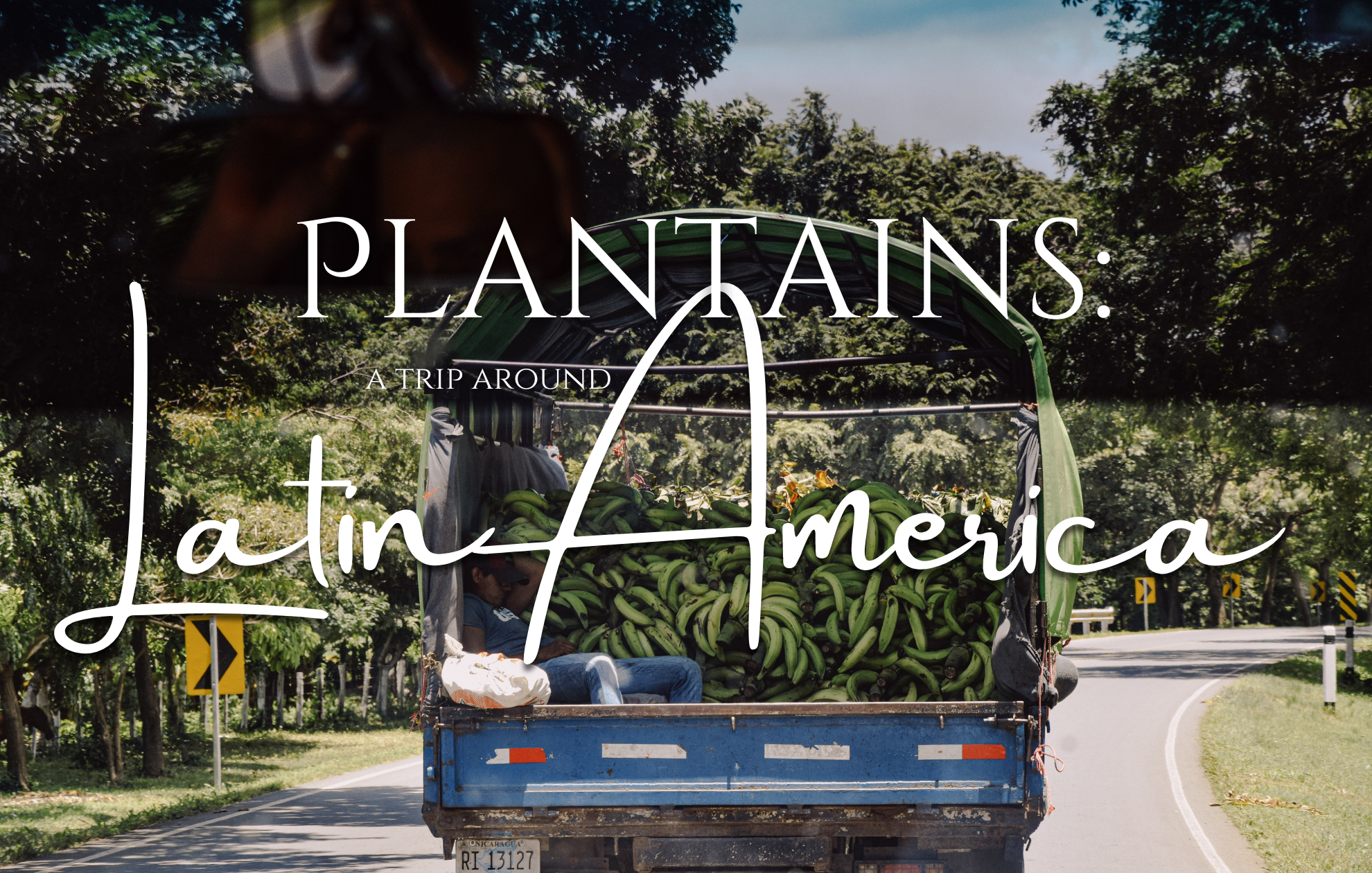 September 15th marks the beginning of Hispanic Heritage Month in the United States – which means for the next month, Latin culture is celebrated and revered all over the country in a multitude of industries. From the arts and history, to technology and the sciences, contributions from those of Hispanic heritage are appreciated especially during this month.
Whatever time of the year it is, one thing is certain: food brings people together. And with a rise in the Hispanic population in the United States, nothing brings people together more than sharing traditional Hispanic food such as Mexican tortas, Cuban media noches or Venezuelan arepas.
You might like: A Glossary of Terms for Your Favorite Latin Food Dishes
One of the most beloved Latin staple foods, the plantain, is considered the 10th most important food crop in the world. It is produced and eaten globally, and is everywhere from Central and South America to the Caribbean, as well as all over Central Africa and Asia.
Because the plantain is so widely produced and eaten, it is natural that it is known by many names. In Latin America specifically, it is referred to differently depending on the country it is in. We've taken a trip around Latin America to show you what this fruit is called from country to country, along with some typical dishes using the plantain.
NORTH AMERICA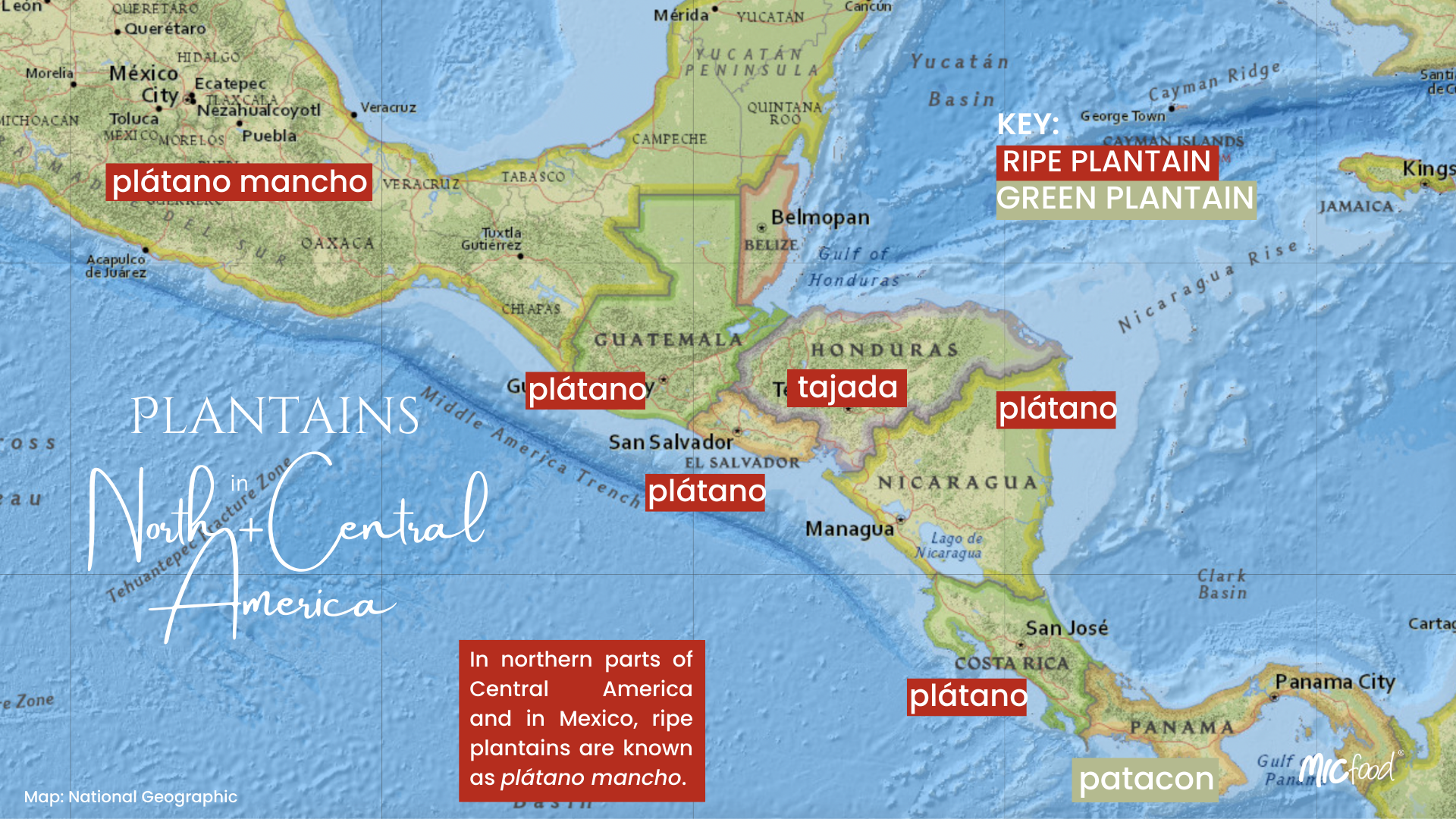 Mexico
Known as: Plátano Macho
Featured dish: Mole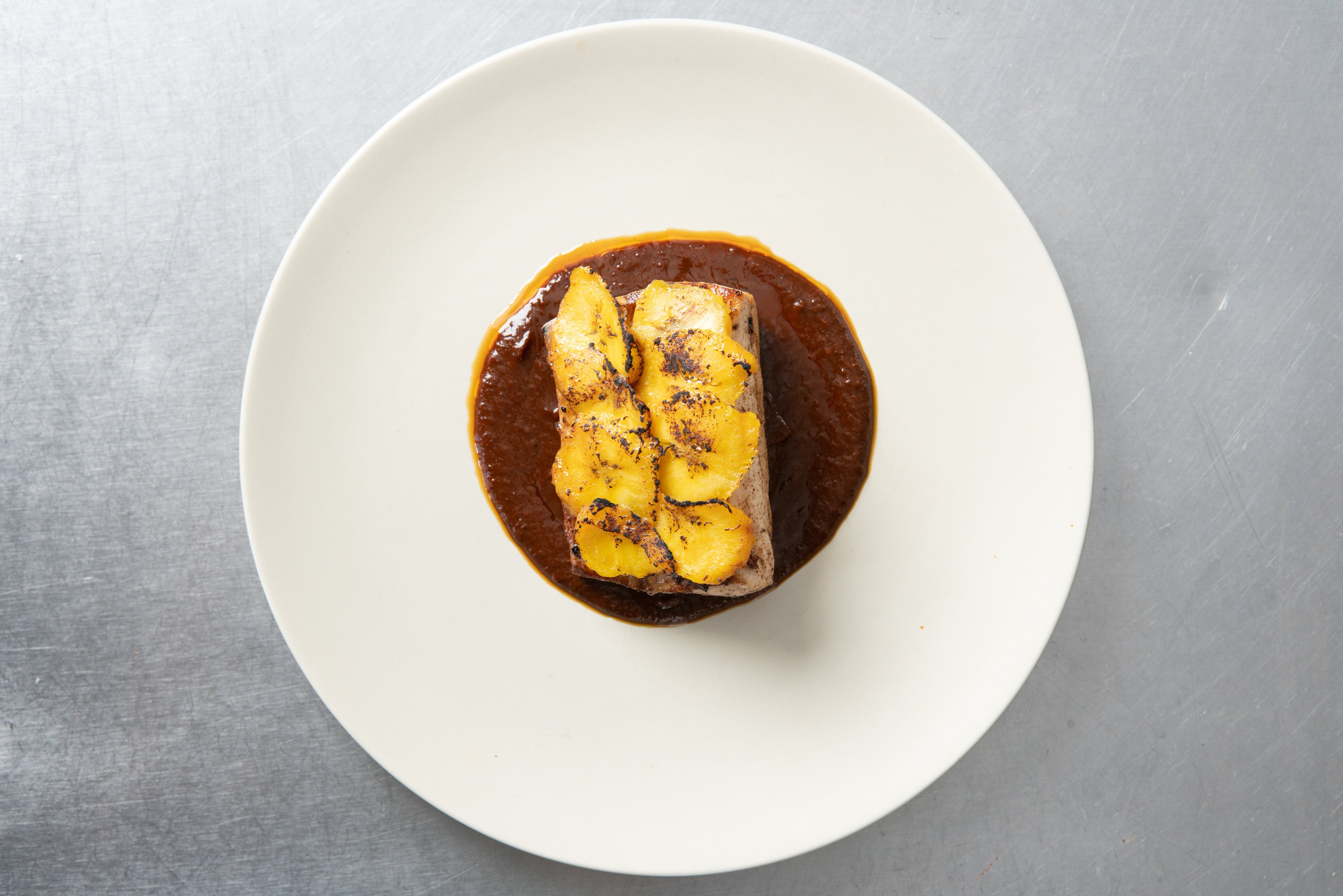 Yellowtail with Plantain Mole featuring Big Banana® Sweet Plantains
"In Central and Southern Mexico, especially in Puebla and Oaxaca, plantains are an integral part of the mole known as manchamanteles, or "tablecloth stainer." This dish can be made with different fruits, according to the region and season, but always contains plantains."
You might like: What's the Difference: A Conversation about Mexican Cuisines
CENTRAL AMERICA
Guatemala
Known as: Plátano
Featured dish: Rellenitos de Plátano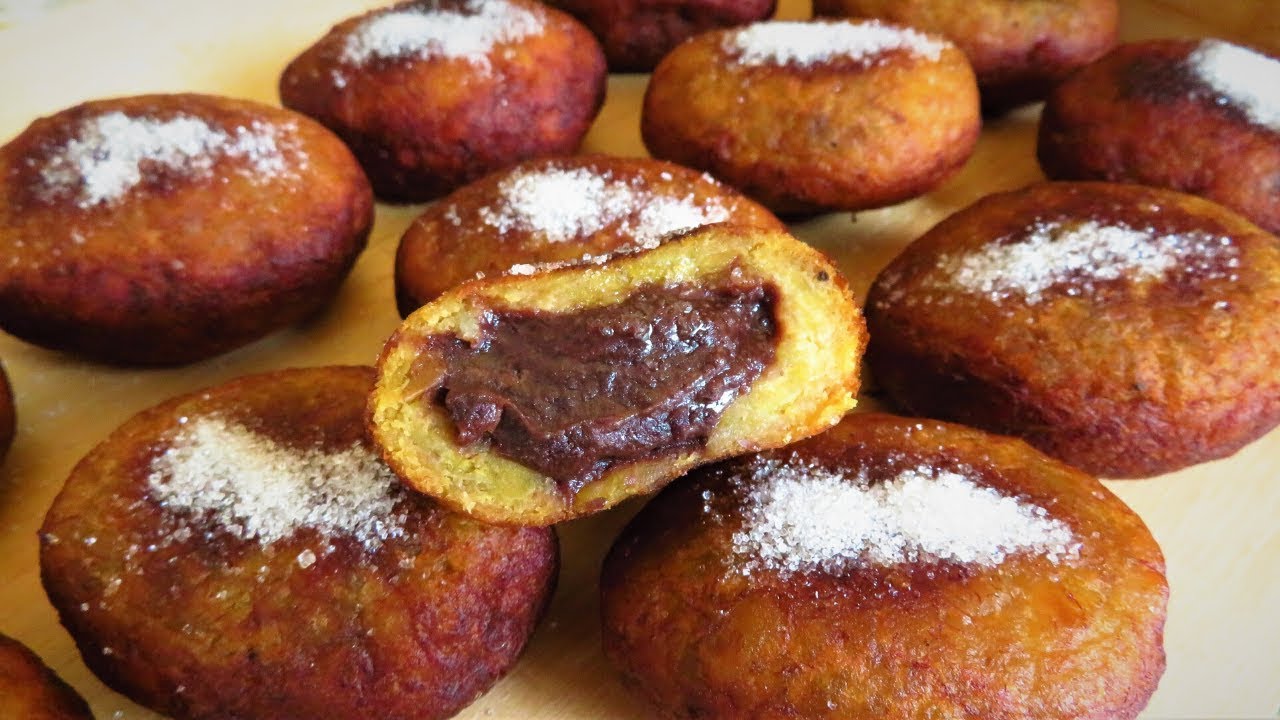 Rellenitos de Plátano via Youtube
Rellenitos de Plátano are a typical Guatemalan dessert made with a ripe plantain outer layer, filled with pureed beans, chocolate, sugar and cinnamon. Fry them on both sides and sprinkle with sugar and you have yourself a delicious stuffed plantain fritter.
Honduras
Known as: Tajadas
Featured dish: Desayuno Tipico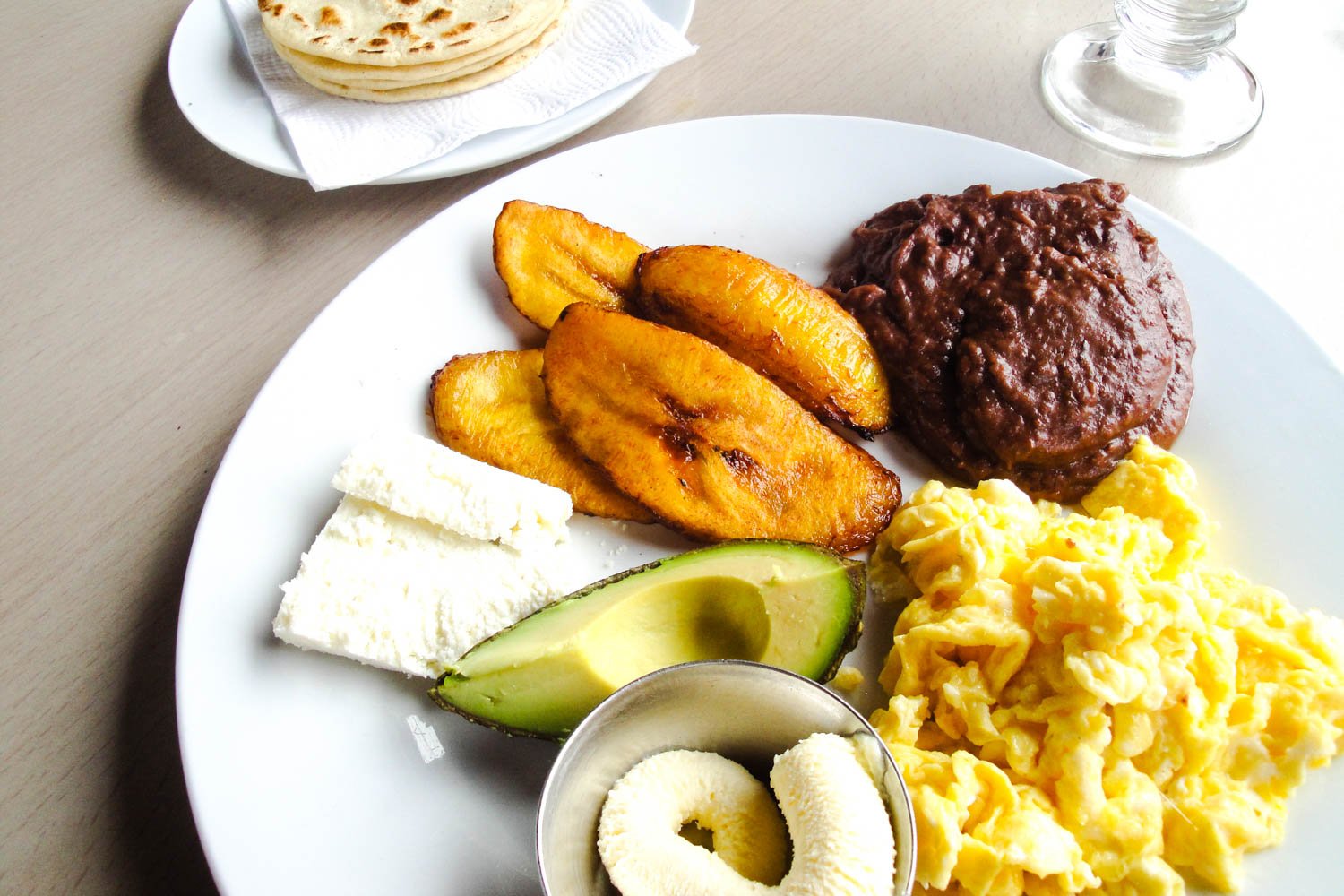 Eggs, Pureed Black Beans, Queso Blanco, Avocado, and Sweet Plantains with a side of Flour Tortillas
Costa Rica
Known as: Plátano
Featured dish: Gallo Pinto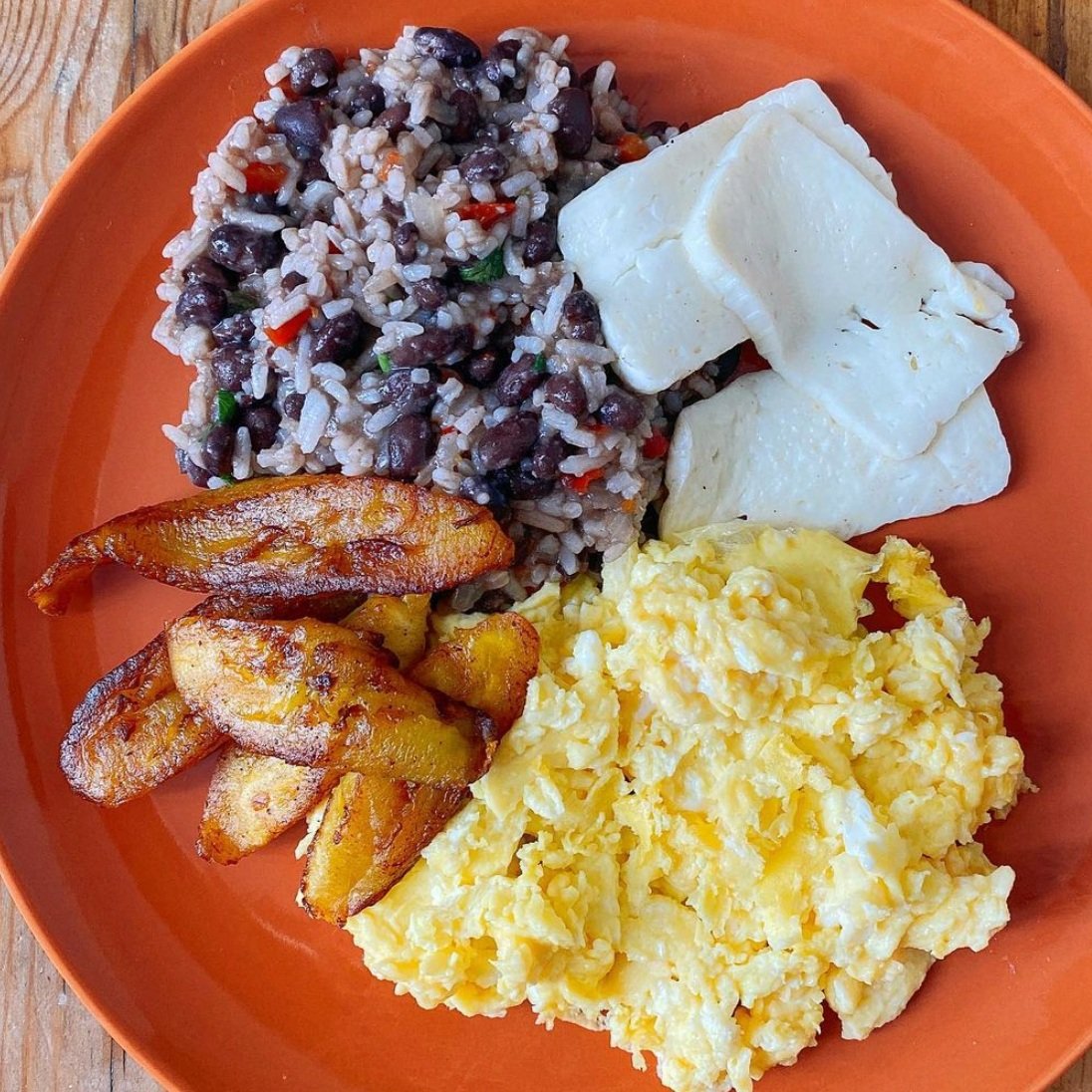 Gallo Pinto (Rice and Beans) with Queso Blanco (White Cheese), Eggs and Ripe Plantains
A desayuno tipico (typical breakfast) in Costa Rica consists of ripe plantain slices on the side of rice, beans and white cheese.
Nicaragua
Known as: Plátano (Ripe Plantains); Tajadas (Green Plantains)
Featured dish: Tajadas de Queso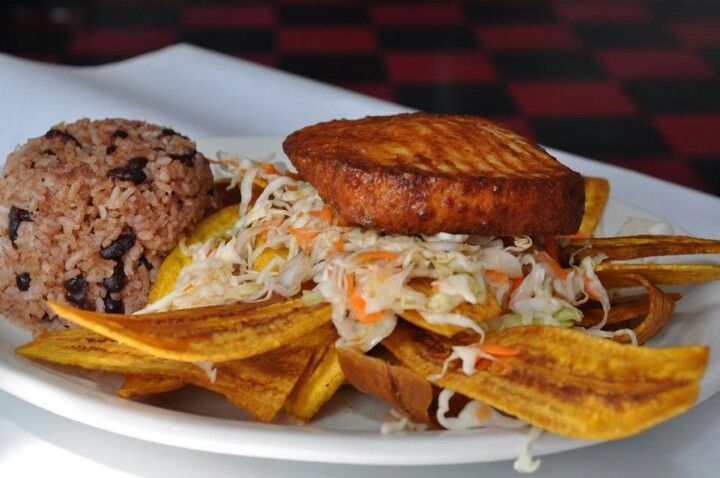 Green Plantain Strips topped with Fried Cheese
An amazing side dish to Nicaraguan fritanga!
Ecuador
Known as: Plátano (Ripe Plantain); Chifles (Green Plantain Chips)
Featured dish: Tigrillo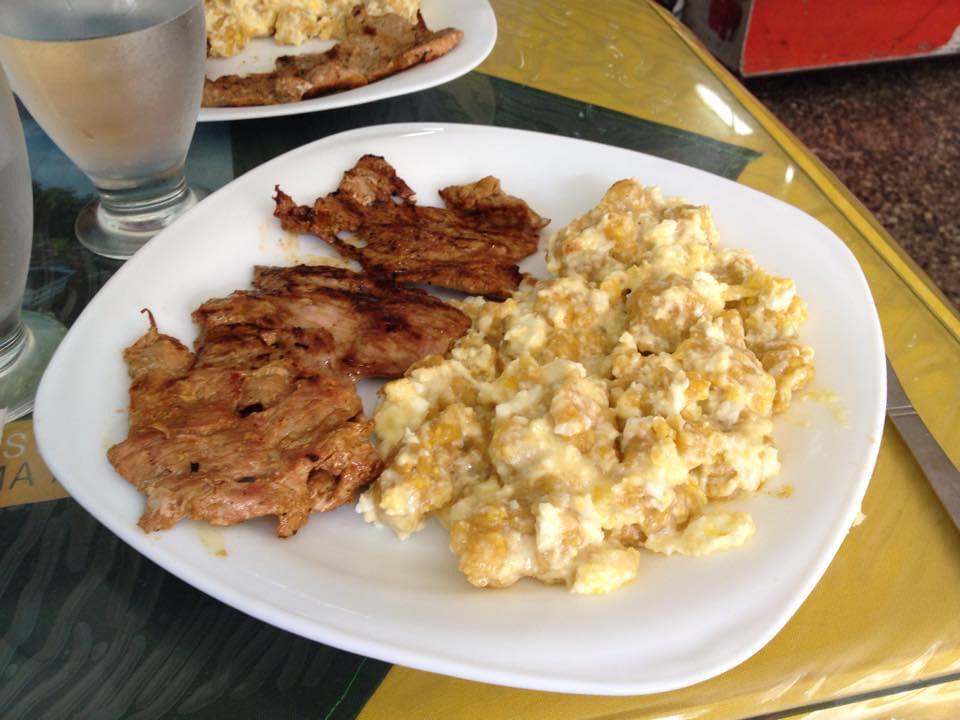 "A quite popular breakfast on the coast of Ecuador is tigrillo, a fried green plantain scramble with buttery eggs and crumbled cheese. The origins of this dish started in coastal towns in the southern region, like Zaruma."
El Salvador
Known as: Plátano
Featured dish: Salvadoran Plátano Empanadas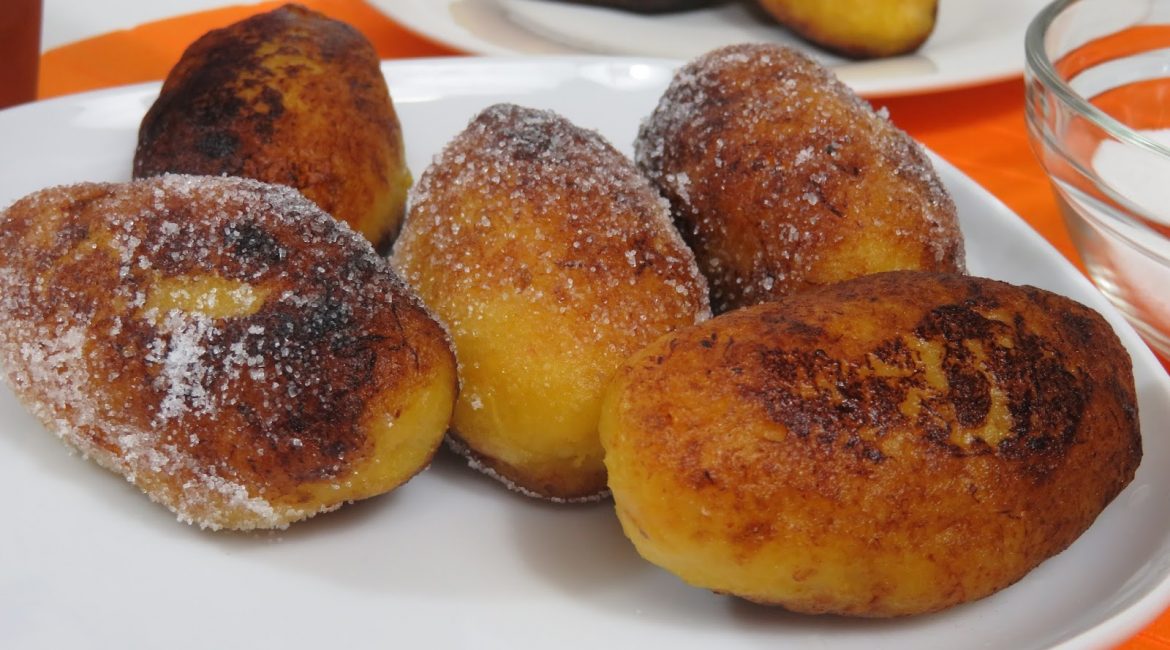 Ripe Plantain outer layer with a sweet (condensed milk and sugar) or savory (bean) filling.
Panama
Known as: Patacones
Featured dish: Patacones side (Fried Green Plantain)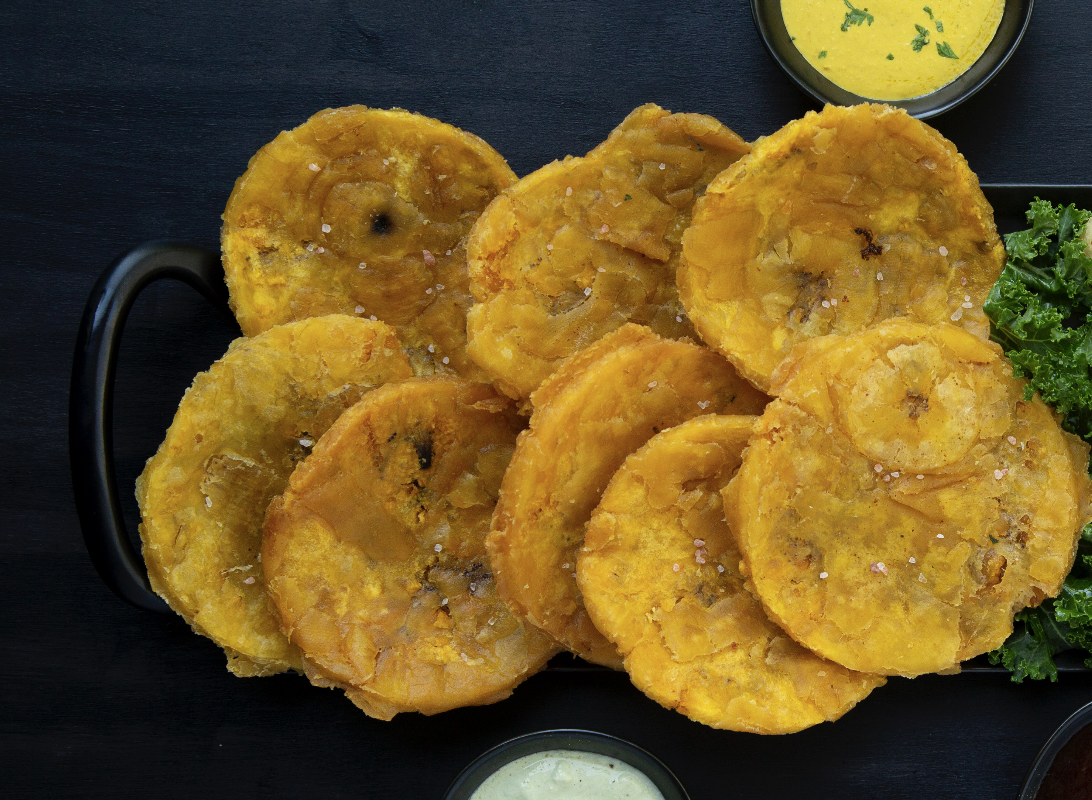 Tio Jorge® Fried Green Plantain
You might like: The State of Latino Buying Power in 2022
SOUTH AMERICA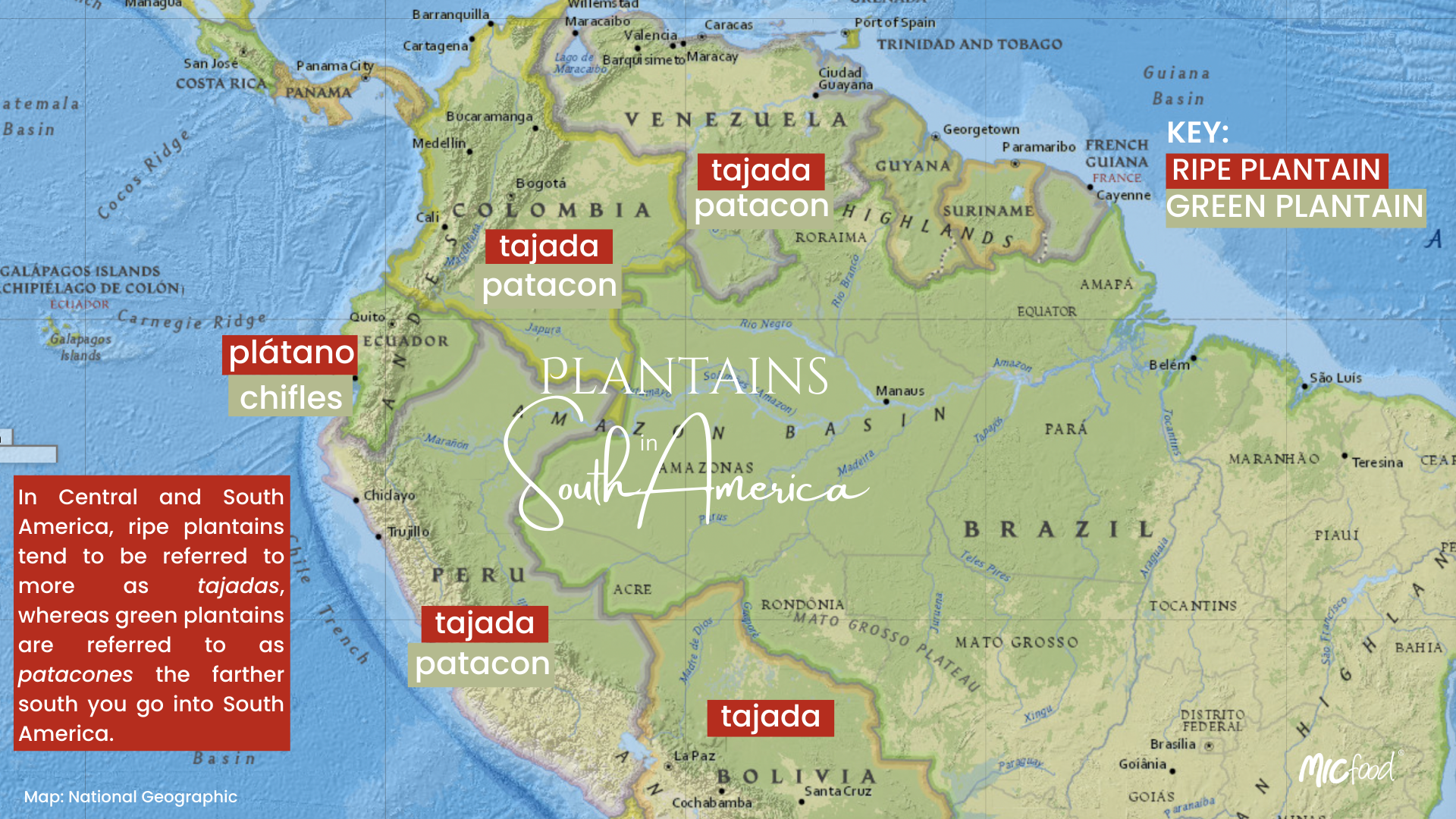 Colombia
Known as: Tajadas (Ripe Plantain); Patacones (Green Plantain)
Featured dish: Bandeja Paisa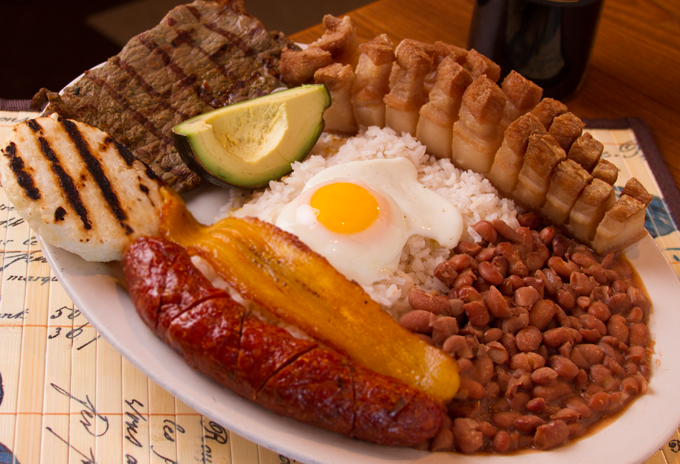 Medellin's famous dish, Bandeja Paisa: Churrasco, Sausage, Chicharron (Pork Belly), Rice, Beans, Arepa, Avocado, Fried Egg and Sweet Plantain
Colombia is the biggest producer of plantains in the world. There, the plantain is eaten both ripe and green almost daily.
Venezuela
Known as: Tajadas
Featured Dish: Pabellon Criollo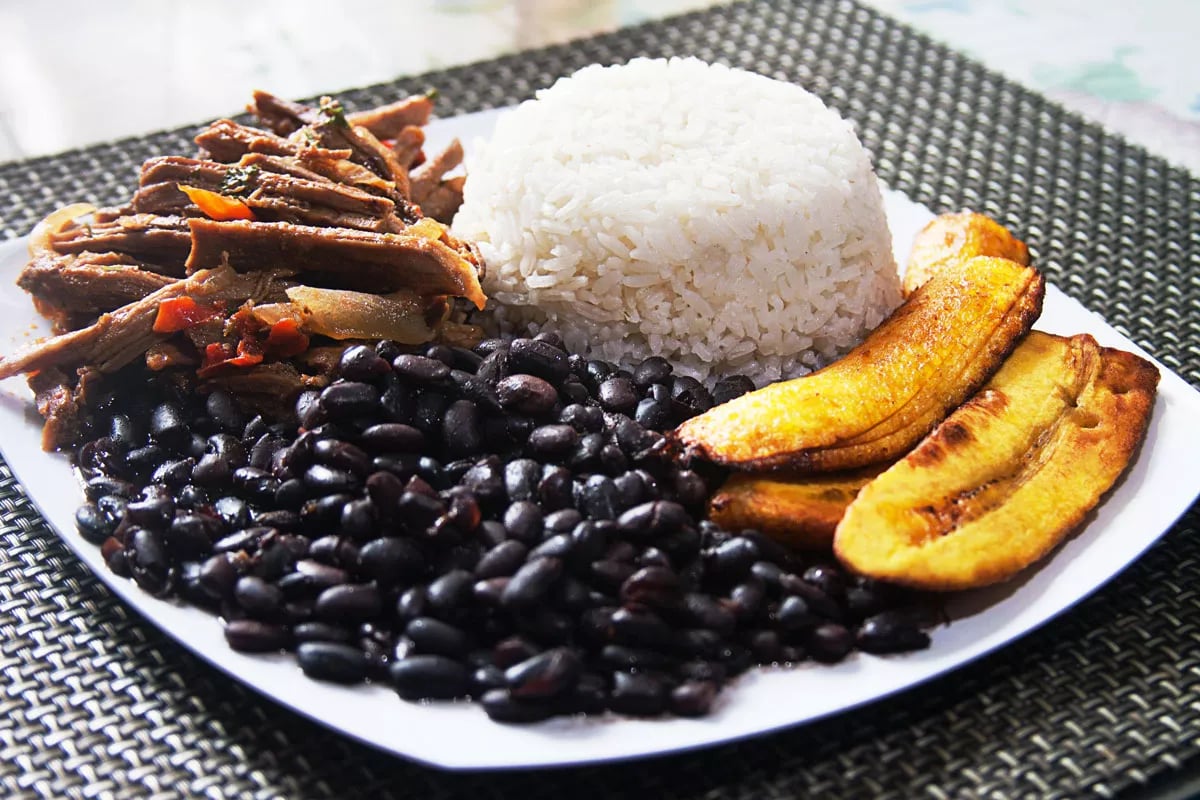 Pabellon Criollo: White Rice, Black Beans, Shredded Beef and Ripe Plantains
Considered the "national dish of Venezuela", this typical meal consists of several Latin staples. Add a side of arepa (or better yet, stuff the Pabellon Criollo ingredients inside of one) and you're golden.
Peru
Known as: Tajadas (Ripe Plantain); Patacones (Green Plantain)
Featured dish: Chapo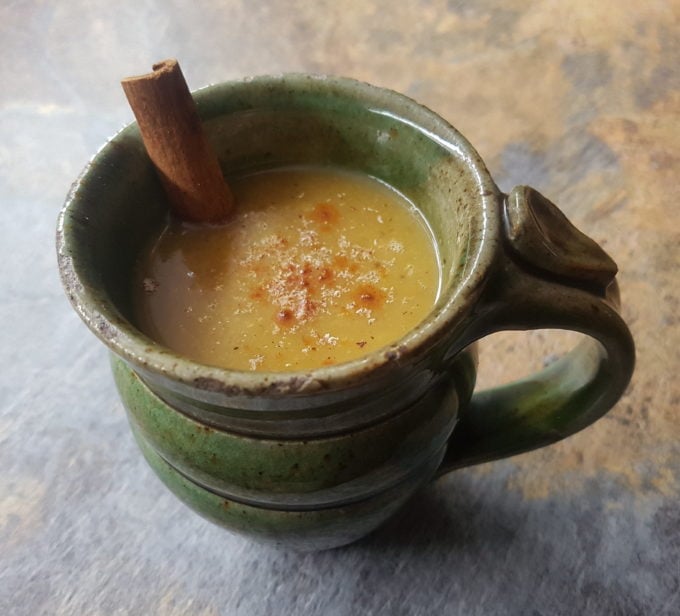 Peruvian Chapo
This plantain drink hails from the Amazonian edges of Peru, where very ripe plantains (tajadas) are mashed and mixed with cinnamon and honey to create this energizing morning hot drink.
Bolivia
Known as: Tajadas
Featured dish: Majadito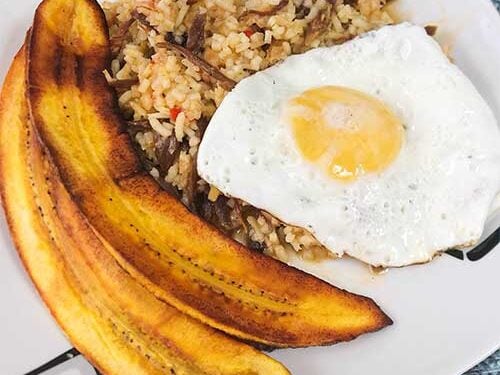 Majadito is a Bolivian recipe consisting of rice, dried meat, chopped onions, and tomatoes. This dish is credited as originating in the city of Santa Cruz and is considered to be one of the national dishes of Bolivia.
CARIBBEAN

Fun Fact: The name Tostones comes from the word Tostón, which was the name of the Spanish currency used during the colonial period.
Puerto Rico
Known as: Plátano Maduro (Ripe Plantain); Tostones (Green Plantain)
Featured Dish: Mofongo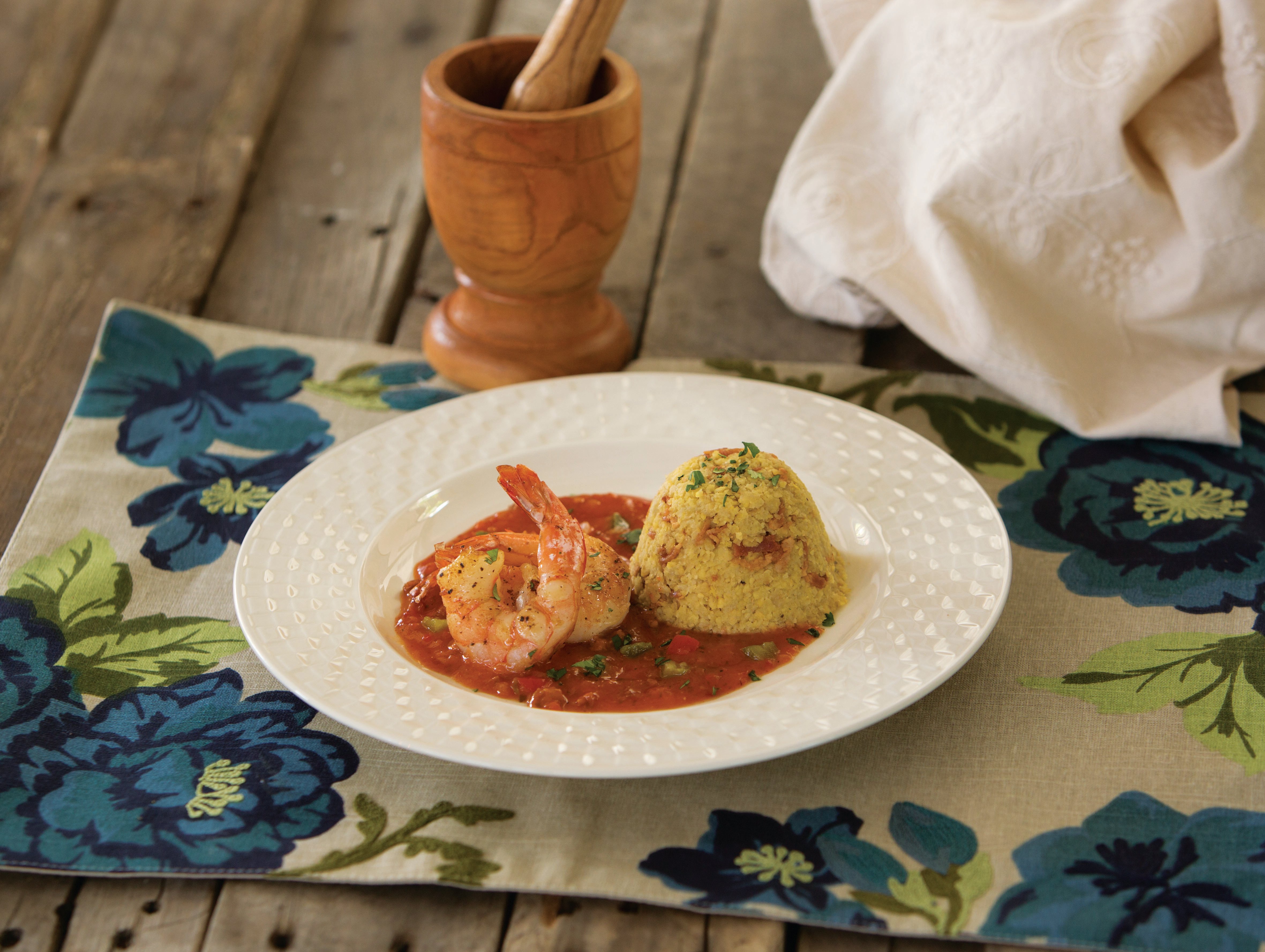 Mashed green plantain with chunks of pork belly or pork skin (chicharron) is a very common dish in Puerto Rico.
Cuba
Known as: Plátano Maduro (Ripe Plantain); Tostones (Green Plantain)
Featured Dish: Cuban Sandwich with a side of Plantains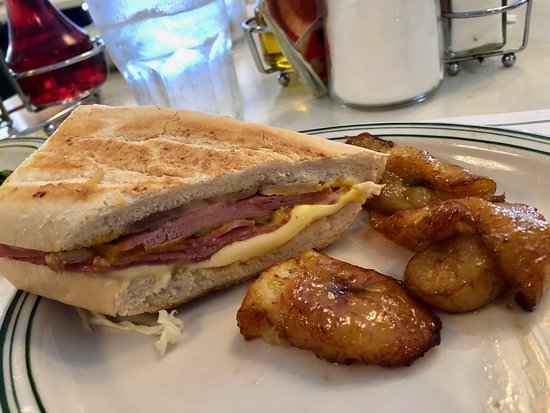 Cuban Sandwich with a side of Plantains
You won't have trouble finding Cuban sandwiches in Miami either!
Dominican Republic
Known as: Plátano Maduro (Ripe Plantain); Tostones (Green Plantain)
Featured Dish: Mangú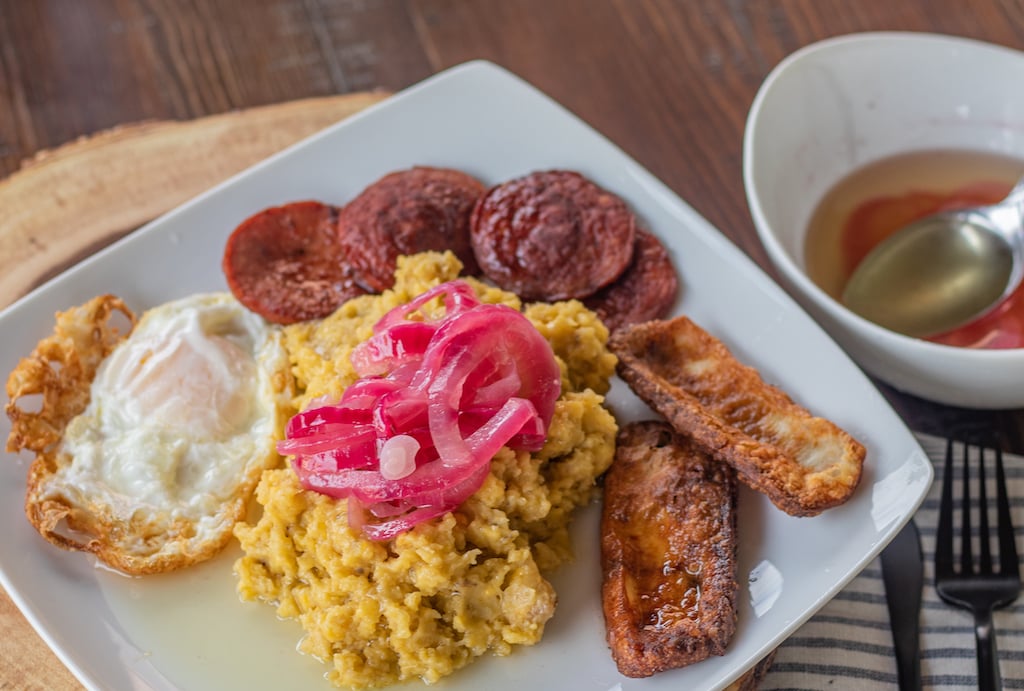 Dominican Mangú (mashed plantain) served with Egg, Meat and Cheese, and usually topped with Red Onions
Mangú is made from mashing boiled green plantain.
­­
A Plantain by Any Other Name Would Taste as Sweet
As you can tell, plantains have proven to be an essential part of Latin America's rich culture and cuisine. Although it may be known as different names throughout the Americas and the Caribbean, it is equally important and traditional to a variety of countries, so much so that it is eaten at every stage of ripeness.
Convenience
Traditionally, plantains must be peeled, sliced, and cooked prior to consuming. But Big Banana® Ripe Plantain products and Tio Jorge® Green Plantain products are available pre-cut and pre-cooked!
Here at MIC Food® we are helping chefs, restaurants, industrial kitchens, retail brands, delis, and others in the food industry rethink their menus and increase appeal among ethnic and mainstream consumers alike. We provide variety of tropical fruits and vegetables that come peeled and cut, ready-to-heat and serve, saving you hours of prep time so you can focus on what matters the most: making every meal memorable.
Ready to try our plantains? Contact our sales team and request samples today. Or Ask Our Chef about how you can incorporate plantains into your menu.
Sources: