Rincón Food Diary: Eating My Way Through a Puerto Rican Surf Town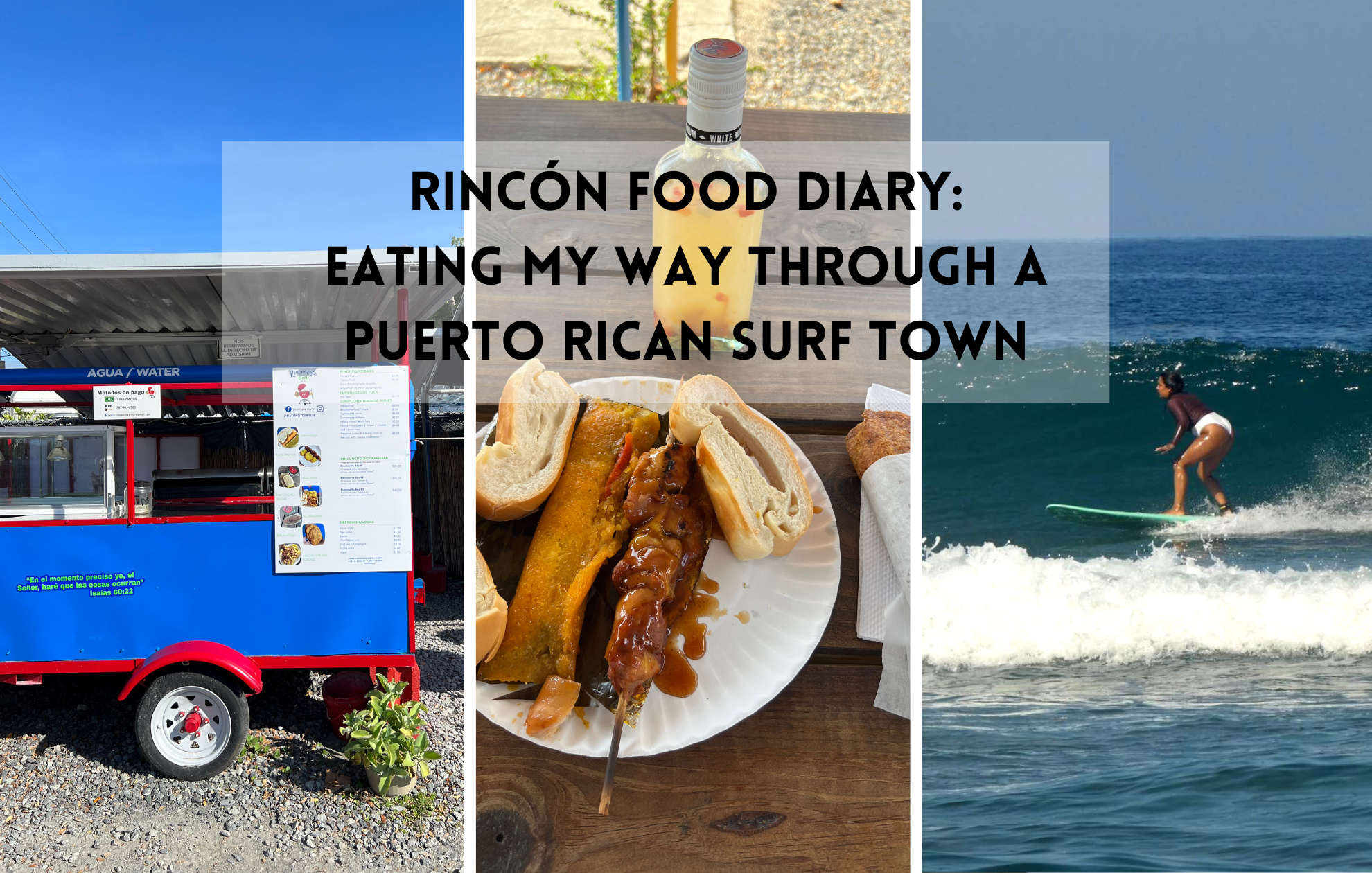 Wednesday
It's 3:45 PM on a Wednesday in Rincón, Puerto Rico. A cloudless sky offers no protection from the beaming sun as I wander down the road from my bungalow in search of an açaí bowl. I'd been craving one since my surf session earlier this morning, and now that my internet was slowing down, it was the perfect sign for me to go start my search.
I had passed by a smoothie cart yesterday a few hundred yards away from my rental and had made a mental note to go back and try it out.
Nothing says island-life like eating an açaí bowl after surfing. My thoughts are interrupted by the boarded-up cart and a 'Closed' sign.
Hmm, I think as I look around and notice that the 2 carts around it were also closed, despite what Google Maps said. No worries! I had walked into the center of the pueblo the
day I arrived and knew there was a whole street full of places to eat.
Another ten minutes or so and I am standing in the town center of Rincón, complete with souvenir and surf shops. As I am met with a surprising number of "Closed" signs on the doors to air-conditioned smoothie shops that I was hoping to take refuge in, I acknowledge that this is a strange time of day to be looking for a meal.
My mind suddenly switches gears. It's my first ever trip to Puerto Rico, I think. How have I not eaten local food yet?
I wander further and further down the road in the island heat, eventually seeing a grocery store in the distance. But as soon as I start making a bee-line towards it, an "Open" sign catches my attention, as does the smell of something cooking wafting in my direction.
A humble cart of royal blue with red trimmings is accompanied by a shaded table. There is no thinking anymore – within seconds I am standing directly in front of the cart with a large menu titled Rinconcito Grill. Oh yeah, this is it.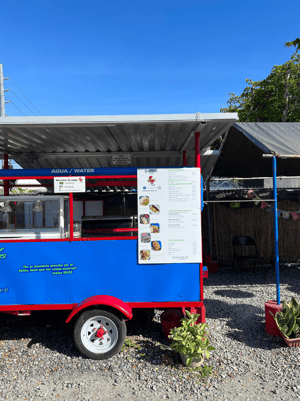 The lady manning the cart gives me a smile and nod as she awaits my order.
"This is my first time in Puerto Rico," I announce. "What do I need to try?"
"Welcome!" she beams, and insists I try an alcapurria or an empanada.
"I'll take both," My stomach rumbles. "And add on a pincho de pollo too, please"
I step over to the side of the cart to watch her drop an alcapurria into a deep fryer and listen as she describes what I am about to eat. "Grated yuca on the outside with beef in the middle, then it's all deep-fried".
As it continues to fry, her companion brings over the empanada and the pincho de pollo topped with a guava glaze and barbeque sauce.
As soon as I see the empanada, I am reminded of a tamale.
"Except tamales are made with a corn outer layer, and all these are made with yuca" she explains and places the alcapurria on the napkin next to my plate.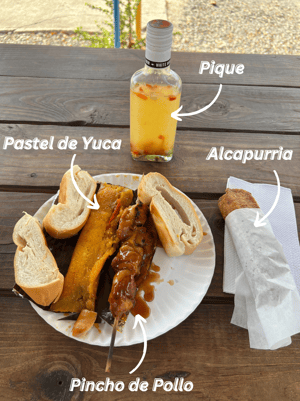 I thank her and make a mental note of how funny it is that the word empanada means something completely different depending on whether you are in Puerto Rico, Colombia or Argentina.
"Don't forget to pour some pique on it if you like spicy!" she exclaims.
Puerto Rican Food Dictionary (Part I):
Alcapurria: stuffed fritter with an outer layer of grated yuca or green plantain and filled with beef or pork. It is formed into a cylinder shape and deep fried until the outer layer is crispy.
Empanada: seasoned ground pork or beef surrounded by grated yuca or green plantain, all wrapped and boiled in a banana leaf.
Pincho de Pollo: a chicken skewer
Pique: chili pepper-infused vinegar used as a hot sauce
Watch: Puerto Rican Pasteles featuring Tio Jorge® Grated Yuca
Friday
The following few mornings continue bringing beautiful glassy waves for sunrise sessions. It is pretty late in the season, and my surf coach, Robert, informs me that it's rare for Rincón to keep getting consistent swells like this so late in April, and that I came at the perfect time. End of season means less crowded lineups - (but it also means closed açaí stands). I wonder if less people in the water is the reason I keep seeing so many sea turtles every time I'm in the lineup, or if they always hang around like this!
As I comb through my tangled, salty hair and toss my wet rashguard in the trunk, Robert informs me that him and his partner, Adriana, will be taking me out to one of their favorite local spots for dinner to try mofongo.
"Buenisimo!" I exclaim, noting that mofongo was on the top of my list to try ever since beginning my mission to eat local while I am here.
After a day of work, my taste buds are ready for another Puerto Rican delicacy. Robert loads their two sweet pit bulls in the car and it's time to hit the road.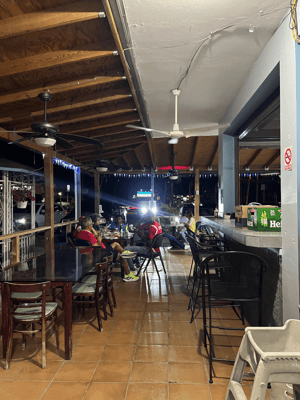 A quick 5-minute drive into town places us at Tropical Gourmet Seafood, one of Robert and Adriana's go-to spots.


"You have to try the fish broth here," says Adriana "We always get it!"
She is referring to the Puerto Rican staple, Caldo de Pescado, of which we ordered two.
We also order what I know as plátanos maduros, but what is referred to here as amarillos, as explained to me by the waitress after looking at the confused look on my face.
They add on an order of masitas de dorado for me to try, as well as some sorullitos. "Robert grew up eating these" Adriana notes as she reaches for the yellow cornmeal fritters.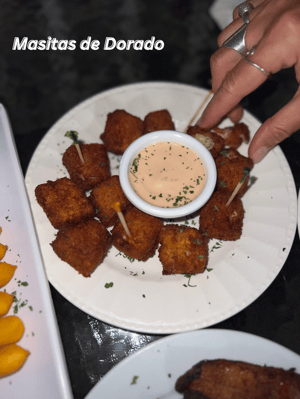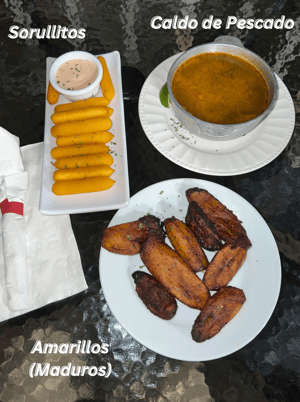 Now it's time for the main course, my surf fuel for tomorrow morning! Mofongo!
A beautiflly plated mofongo relleno de pollo is placed in front of me in a bed of salsa criolla. This Puerto Rican staple boasts an outer layer of mashed green plantain and garlic, with a chicken filling.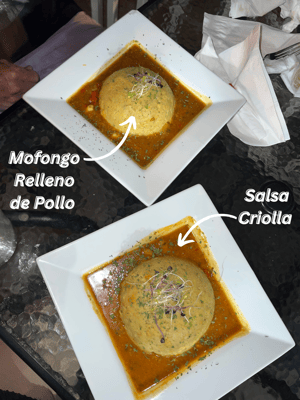 I later learn that this classic boriqua dish has its roots in a mixture of Afro-Caribbean and Spanish cuisine. The mashed outer layer is reminicent of West African fufu and the flavorful salsa criolla with its delicious spices stems from its European ancestors.
I quite literally cannot remember the last time I tasted something so colorful and tasty.
This is truly the cherry on top of what has been a wonderful meal shared with new friends.
I get through about half of it and request a takeout box to take home the rest of this delicacy.
Puerto Rican Food Dictionary (Part II):
Caldo de Pescado: fish broth
Masitas de Dorado: fish fritters (usually cod)
Sorullitos: skinny, cylinder-shaped cornmeal fritters (sometimes filled with cheese)
Amarillos: fried sweet plantain slices
Mofongo: mashed green plantain mixed with garlic and pork rinds
You might like: Plantains: A Trip Around Latin America
Saturday
Saturday morning rolls around as quickly as an unexpected set of waves. It's 10 'o clock in the morning and I have just returned to my bungalow from a 3-hour surf session at Domes Beach. The wind picked up earlier than usual this morning, but that didn't stop me from confidently taking off on waves at the main peak all session long.
As I rinse off in the outdoor shower surrounded by banana trees and tropical lush, I listen to the iconic calls of the coquí frogs. The unofficial mascot of Puerto Rico, the coquí frog has become an important symbol to the island's people. Each time I have showered out here all week, I keep an eye out to see if I spot one, but I haven't had any luck.
I shut off the faucet. Squeezing the water out of my hair and wrapping a towel around myself, I decide I know exactly where I will have my last meal in Rincón.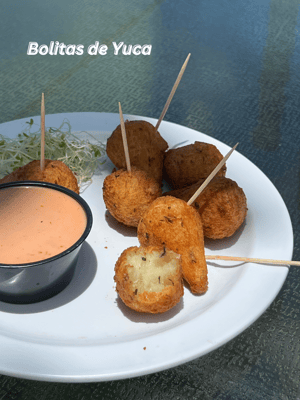 30 minutes later I am walzing into Harbor, an outdoor, waterfront restaurant down the road from my bungalow. I take a seat at a lone table right on the water's edge and know in my mind what I want to order for my main course.
After munching on some bolitas de yuca (fritters made with yuca and bacalao - a.k.a. codfish), I wait patietly for the star of the show: Chillo Frito (Red Snapper).
Complemented by a side of tostones, the fried fish stares back at me, who at the moment is realizing that I have never eaten one of these by myself before, and who needs guidance on how to tackle this before the flies get to it.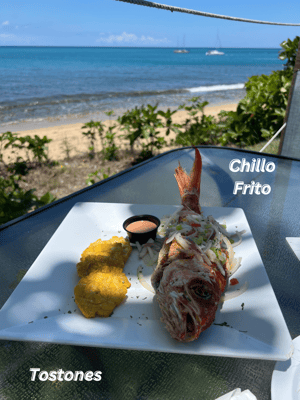 I FaceTime my dad, who laughs and states, "Con las manos, niña!" With your hands, girl!
Well, here I go.
What proceeds is a mouthful of the deliciously, garlic-coated, perfectly textured catch of the day.
I look up, my mouth filled cheek to cheek with this awesome fried fish, and register the two sailboats anchored in front of me.
This is what I came for, I think. A beautiful post-surf island meal with this gorgeous view. What a perfect way to spend my last day in Puerto Rico.
Puerto Rican Food Dictionary (Part III):
Bolitas de Yuca: fritters made with a yuca and codfish mash
Tostones: fried green plantain
Chillo Frito: red snapper
Riding the Wave of Flavor
In the end, I did get my açaí bowl. And it was refreshing, just as I expected. But it did not bring conversations with locals, the shared meals that I had with my Puerto Rican surf coach, or experiencing eating something new as I overlooked the Caribbean beach next to me.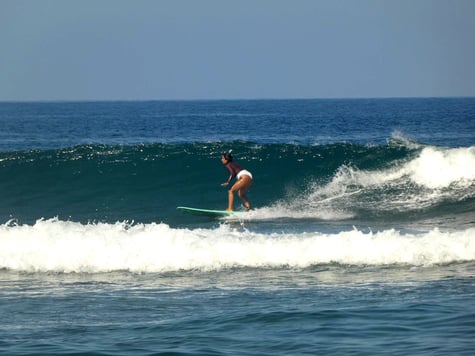 This is what food is about. I not only gained new knowledge of typical Puerto Rican cuisine firsthand, but I gained conversations, local stories about the past, shared experiences.
This was my first trip to Puerto Rico, but it certainly won't be my last. And you can bet that the next time I'm in Rincón, the first thing I'm doing is ordering myself a plate of mofongo relleno. After that, pa la playa!